Wallpaper Is Back: 4 Trends to Personalize Your Space
Over the years, wallpaper has gone through a multitude of trends, reflecting the ever-changing tastes and preferences of homeowners: from floral patterns and intricate geometric shapes, to neutral, minimalist designs.
In the early 2000s, when minimalist designs and painted accent walls were all that, wallpaper took a back seat in most design choices. But in recent years wallpaper has seen a resurgence, reclaiming its status as a stylish design element. In fact, this year has seen a fresh wave of wallpaper trends that blend contemporary aesthetics with a touch of nostalgia.
Here are some of the trends that are standing out in 2023.
Nature-Inspired Prints
Bringing the outdoors inside is a prevailing trend in 2023, as it has been in recent years. Wallpaper designs inspired by nature such as forest landscapes, modern floral patterns, and tropical prints add a sense of serenity, organic beauty, and a touch of escapism to any space.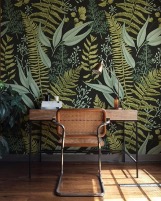 Abstract Geometric Patterns
Geometric designs are historically a popular choice, but now with a modern twist. You can introduce more energy and playfulness to your interiors with abstract patterns featuring bold, asymmetric shapes and contrasting colors.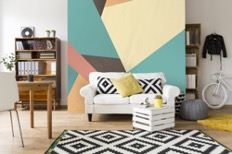 Textured Effects
Wallpapers with texture and three-dimensional effects are gaining traction in 2023. Embossed patterns, faux brick or stone finishes, and metallic accents create depth and visual appeal. These textured wallpapers bring a luxurious touch to any room and provide a captivating backdrop for furniture and decor.
Sustainable Choices
As environmental consciousness grows, sustainable wallpaper options have become increasingly popular. Many wallpaper brands are now embracing sustainable practices, offering a wide range of environmentally friendly choices without compromising on style or quality. These are often being made with natural or recycled materials, and organic, water-based pigments that are free of PVC.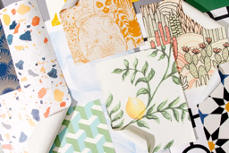 At Sunny Communities we believe that every new home is an opportunity to express your personality. Visit our design centre for help customizing your new home, or check out our upcoming community in North Oshawa: Grand Ridge North.